Jurassic World: Dominion Dominates Fandom Wikis - The Loop
Play Sound
60 Seconds! Atomic Adventure is the IOS port of the PC game 60 seconds. The game is playable on iPhone Android and iPad and uses the touch screen controls to control ted while in game collecting objects and during the survival mode where players ration out supplies.
Objective
You are trying to survive until you get rescued by the Twins, the Government, the Secret Agents, the Scientist, or the Cat Lady (cats take over your shelter. See Apocalypse Mode if you need help figuring out what items to collect.
Glitches/Bugs
After day 70 the game supposedly goes to a black screen and freezes the player's mobile device(?) (Ehem Ehem It's fixed) On Android, there is a glitch where only the bottom half of Timmy gets sick.
Freed Timmy from Raiders. He did not appear on screen
Dolores got freed from raiders. She went back dead, but her stats were still Starvation, Dehydration, Crazy, Fatigued, Tired (she was not tired, crazy, or fatigued before)
Both of the raider glitches happened after I didn't defend my shelter after both family members were taken (and I haven't freed any yet). When it got time to free them, the glitch occurred.
Sometimes, when you scavenge, you cannot grab a certain item until you have emptied your hotbar.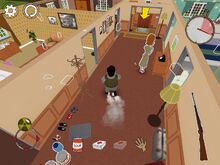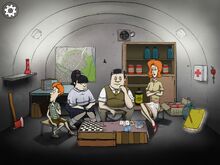 Trivia
This is the First mobile game developed by Robot Gentleman Studios
There is a chance, that, when talked to and/or not talked to, Mutant Mary Jane can run away.
Mutant Mary Jane cannot die, unless you get the supplies from the tank event (Ted is the only one able to survive).
Mutant Mary Jane is obtained by either not doing anything about the Green Goo event or the spider event.
If you do not use the medkit (which you should not use) on the sleeping event, there is a high chance one family member will go crazy.